News
CPA Online Competition Series

Posted: 3rd June 2020

The CPA are holding a series of competitions online over the summer of 2020. There will be two events per grade, Piobaireachd and MSR. The competition will be held in stages, C Grade in July, B Grade in August and A&P Grade in September, depending on the success of the earlier competitions. Entries will be taken through the CPA website and we welcome new members to sign up in order to take part. Timeline for the C grade competition: Monday 14th June 2020 - Entries open Wednesday 1st July 2020 - Deadline for entries and submission of video links Judges: Patricia Henderson (Piobaireachd) and Ronnie McShannon (MSR) Rules: 1. Competitors must be members of the CPA. 2. The cost to enter is £10 per event. 3. Each event is own choice. 4. Entries will be accepted through the CPA website. After entering you will be sent a link by email to submit your competition entry. 5. Videos must be submitted by Youtube link. 6. Prize money will be in line with CPA sponsored games.

Silver Medal New Qualifying Process Announced

Posted: 29th Nov. 2018

New Silver Medal Qualifying Procedure In Place New Qualifications process for 2019 season fulfilling 2020 AG and NM Silver Medals For the past year, The Competing Pipers' Association, in conjunction with the Argyllshire Gathering and Northern Meetings have developed a new qualifying procedure for competitors to gain places in the Silver Medal events. This new method will give clarity to the competitors so that they understand how they gain entry, as well as providing more transparency on the eligibility process. This qualifying procedure will begin in the 2019 season, with competitors qualifying for the following year's Silver Medals in 2020. The formula that has been devised has a number of different channels including through a series of competitions throughout the season in a calendar year that will act as qualifiers. At the end of the season (London Championship) every player would know whether they have successfully qualified for the following year or not. This would be very much like the A/P players after the Northern Meeting knowing if they will have an invitation to the Glenfiddich Championship. The following formula would make up the competitors for the Argyllshire Gathering and Northern Meeting Silver Medals. The proposed series of events would be 1) Silver Medal placed competitors from the previous year 2) All A- players 3) Winners of B Graded Piobaireachd contests in the current year 4) B Grade League table placings The competitions in which taking a first place and earning a guaranteed spot in the following years Silver Medals will be, Kansas City, Winterstorm Duncan Johnstone BC Indoors Highlands and Islands Blair Atholl Roseneath Inveraray Perth MacGregor Memorial (AG) Cowal Blairgowrie Captain John MacLellan Memorial London Championships Using this formula, it is felt that this will deliver the best/most consistent players qualified each year to compete in a strong competition. This system will also allow for fluctuations in numbers across multiple event winners, Silver Medal placings and A- players to ensure a full complement of 26 players each year. As part of this, the CPA encourages pipers to compete at all Highland Games events and piping competitions, not just the CPA graded ones, to improve their track record and get experience of competing. CPA President, Glenn Brown said: This was no easy task coming up with this new system. The CPA committee spent a long time thinking this through, but we feel that it is the fairest way possible for all competitors to gain entrance to the Silver Medals at the Argyllshire Gathering and Northern Meeting. With 65 B grade players, it's very difficult for the CPA and Joint Committee coming up with the list of who gets into the medals each year. This lays out the exact method in which the player will get into the Silver Medals. Essentially, every competitors fate is in their own hands. We understand that this first year will have a learning curve and are prepared to take action where needed in the future. Northern Meeting Convenor of Piping, Alan Forbes said: "The proposed new qualification process seems fair and transparent and will have the added benefit of letting Silver Medal qualifiers know where they stand much earlier than in the past." Argyllshire Gathering Piping Secretary, Torquil Telfer said: The Argyllshire Gathering is of the view that this positive proposal is both transparent and fair, each competitor is aware of the qualification process in advance. We encourage competing pipers to join the association, however, this structure is also open to non-members The member grading process for all competing pipers is open until Thursday 30th November on the Competing Pipers' Association website.
---
About the CPA
The CPA exists to represent the world's competitive solo piping community in Scotland. Our objectives are :
To promote and encourage solo piping.
To improve the status of competing pipers.
To improve the conditions of competitions and public performance for solo pipers.
To foster a spirit of comradeship among members.
Find out how to join / renew membership. You may also wish to read our Code of Conduct and Constitution.
Facebook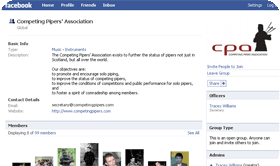 The Committee
President
Cameron Drummond
Vice President
Greig Canning
CPA Secretary
Helen Wilkinson
Treasurer
Jonathan Greenlees
B & C Grade Competition Liaison
Darach Urquhart
Members
Callum Beaumont
Matt Fraser
Andrew Lee
Peter McCalister
Derek Midgley
Dan Nevins