Piobaireachd Society Annual Recital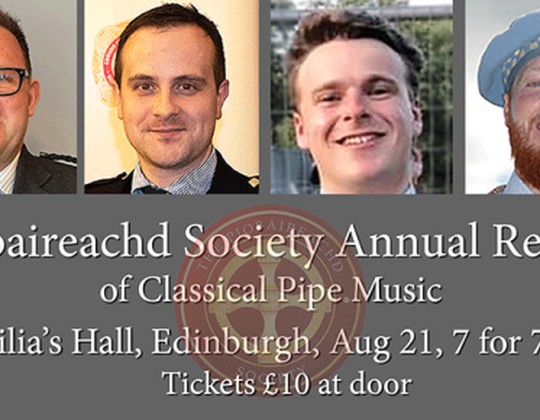 15th June 2022
From Piping Press:
The Piobaireachd Society has invited the following pipers to play at its Annual Concert: Tom Peterkin, Finlay Johnston, John Dew and Nick Hudson.
The concert's official title is 'Classical Pipe Music – Scotland's Hidden Treasure'. The date is August 21 and the venue St Cecilia's Hall, Niddry Street, Edinburgh. Time: 7 for 7.30pm. Tickets are £10 (£8 concessions) at the door or in advance via the Edinburgh Fringe Box Office.
Pipers' dress is black tie. The complete concert will be professionally filmed with the video available to members via the PS website. The tunes to be played are:
MacLeod's Salute and Nameless, Cherede Darievea (Finlay) Battle of Strome and Beloved Scotland (John) Sir James MacDonald of the Isles' Lament and Melbank's Salute (Tom) Salute on the Birth of Rory Mor and Lord Lovat's Lament (Nick)
Society President Robert Wallace said: 'I am sure this will be another very enjoyable evening of ceòl mòr. St Cecilia's is the perfect setting for piobaireachd performance with a fine acoustic. The pipers will play in continuous fashion – as one leaves the auditorium the next enters – with no tuning in between.
'We will have four tunes before the interval and four after. At the end of the concert, circa. 9.30pm, there will be a reception. Here the audience can meet the pipers and enjoy a refreshment.'