CPA Bronze Medal Announcement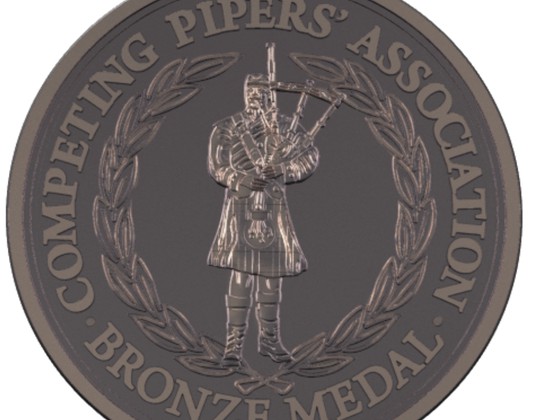 28th March 2022
The Competing Pipers' Association - Bronze Medal
Sunday 28th August 2022
 The National Piping Centre, McPhater Street
The Competing Pipers' Association is delighted to announce the creation of the brand new in 2022, inaugural Bronze Medal Piobaireachd contest. With the blessing of the Northern Meeting and Argyllshire Gathering, and generous funding from the William Grant Foundation and the Piobaireachd Society, a new CPA Bronze Medal has been minted.
Every CPA member graded B or B-, and not already eligible for the Silver Medal for 2022 will now have an opportunity to immediately qualify for next year's Silver Medal. With this venture, the CPA is following in the footsteps of the celebrated Argyllshire Gathering's MacGregor Memorial contest.
For an entry fee of £25 the CPA will be offering a full Senior Judges panel, over £800 in total prize money, a new Bronze Medal, and trophy for the winner.
The CPA and the National Piping Centre are prepared to accommodate all eligible competitors. If more than 25 pipers sign up then there will be heats and a final. The playings requirements this year will be four own choice tunes, but in the future the aim is to follow the Piobaireachd Society's Silver Medal tune list.
The contest will open for registration on April 1st, and close on May 31st with the draw advised soon after.
Full details and entry will be available in the members section of the Competing Pipers' Association website: www.competingpipers.com.
Information for William Grant Foundation
'The William Grant Foundation is a non-profit association established to support charitable causes in Scotland. Its work is funded by William Grant and Sons Ltd.'
Our website is www.williamgrantfoundation.org.uk
If you have any questions please contact us on foundation@wgrant.com or by calling
Audrey McCracken on 01698 573333.
Information for Piobaireachd Society
Secretary - Derek Fraser- secretary@piobaireachd.co.uk
Website - www.piobaireachd.co.uk