News
John MacLellan Piobaireachd recital, contest, and dinner

Posted: 28th April 2013

Hello pipers Just a quick reminder that tickets are available for this excellent evening of piping. As you may know the format is to have a dinner and be entertained by the world's top players, playing the music of Capt John MacLellan MBE. The date is Saturday 8th June, and tickets are available on johnmaclellanmemorial@gmail.com, or by phoning 07528 377704. See the full link below

Silver Medal tunes

Posted: 1st April 2013

At the Piobaireachd Society conference recently, several Silver Medal tunes were demonstrated by Jack Taylor in the annual "Set Tunes" session which happens on the last day of the conference. The recordings of these tunes are now on the members area of our site, with Jack's permission. Note that there are some very interesting variants to these tunes this year. The links below take you to the various pages on the Piobaireachd Society website - every tune now has its own dedicated page there. In the Grain in Hides recording on our site, Jack goes further than Patrick Molard does, with his interpretation of the Ground. The original Canntaireachd has an extra bar in the last line of the Ground, not repeated in the variations. Patrick has removed this to balance the tune - it is written out by Patrick on the same page of the site - considering these extra bars to be an error. However Jack has decided to leave the extra bars in place, as he liked them. In Duntroon's March there are timing differences after the C cadences on Jack's recording. The website has the timing written out in two versions, by Patrick Molard and Hugh McCallum. Lord MacDonald's Lament has no specific changes made to the published version. Jack did say that he hoped some Silver Medal players would take up these suggestions, though there is no compulsion to do so.

2013 Guide to the Games

Posted: 11th March 2013

The 2013 Guide to the Games is published today on the Members Area of this website. As well as the traditional Guide, there is a new Wallchart version there, which should make the busiest months in Scotland, easier to plan. Good luck with the season, everyone!
---
About the CPA
The CPA exists to represent the world's competitive solo piping community in Scotland. Our objectives are :
To promote and encourage solo piping.
To improve the status of competing pipers.
To improve the conditions of competitions and public performance for solo pipers.
To foster a spirit of comradeship among members.
Find out how to join / renew membership. You may also wish to read our Code of Conduct and Constitution.
Facebook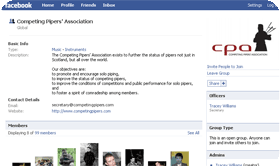 The Committee
President
Robert Gray
Vice President
Derek Midgley (USA)
CPA Secretary
Peter McCalister (UK)
Treasurer
Nils Michael
B & C Grade Competition Liaison
Colin Campbell
Members
Alan Clark (UK)
Douglas Gardiner (UK)
Faye Henderson (Scotland)
John Angus Smith (England)
Fiona Manson (UK)
John Mulhearn (UK)
Andrew Rogers (Canada)
Roddy Weir (UK)
Tracey Williams (UK)