News
Duncan Johnstone Memorial Competition 2018 - Sat 10th March

Posted: 20th Dec. 2017

The date for the Duncan Johnstone Memorial Competition will be Saturday 10th March 2018 at The National Piping Centre. This event is run by The National Piping Centre in collaboration with the Competing Pipers' Association, and is of B and C graded solo players. Entries will be taken through the CPA website and will open nearer the time. There are some changes to this year's event, so please log in and find out the full information from the Members section of the website.

2018 Premliminary Gradings now available for members

Posted: 14th Dec. 2017

The preliminary gradings for 2018 are now available on the website, so log in to see them. This means that the appeals process is now open. If you would like to appeal, please email your submission to the secretary. The deadline for appeals is that you can put in an appeal from any time now until they close on Friday 12th January 2018. Results of the appeals will be communicated to members by Monday 19th January, in time for the Oban and Inverness entry deadlines on 31st January.
---
About the CPA
The CPA exists to represent the world's competitive solo piping community in Scotland. Our objectives are :
To promote and encourage solo piping.
To improve the status of competing pipers.
To improve the conditions of competitions and public performance for solo pipers.
To foster a spirit of comradeship among members.
Find out how to join / renew membership. You may also wish to read our Code of Conduct and Constitution.
Facebook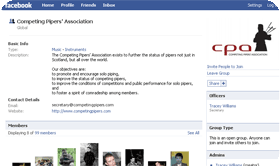 The Committee
President
Cameron Drummond
Vice President
Greig Canning
CPA Secretary
Helen Wilkinson
Treasurer
Jonathan Greenlees
B & C Grade Competition Liaison
Darach Urquhart
Members
Callum Beaumont
Matt Fraser
Andrew Lee
Peter McCalister
Derek Midgley
Dan Nevins