News
Royal National Mod entries - 2017

Posted: 25th May 2017

The Royal National Mòd Piping Entries are due in by Friday 7th July - this is an update from the Guide to the Games. The Royal National Mòd takes place in the this year from 13th-21th October 2017, with the piping competitions taking place on Saturday 14th October 2017 in Lochaber High School, Fort William. Entries for both junior and senior competitions must be submitted by Friday 7th July 2017 and can be done online http://www.ancomunn.co.uk/nationalmod/entryform

Piobaireachd Society Set Tunes for 2018

Posted: 4th April 2017

The set tunes for 2018 have now been announced by the Piobaireachd Society. Head over to their website to see the full list. http://www.piobaireachd.co.uk/archives/8844
---
About the CPA
The CPA exists to represent the world's competitive solo piping community in Scotland. Our objectives are :
To promote and encourage solo piping.
To improve the status of competing pipers.
To improve the conditions of competitions and public performance for solo pipers.
To foster a spirit of comradeship among members.
Find out how to join / renew membership. You may also wish to read our Code of Conduct and Constitution.
Facebook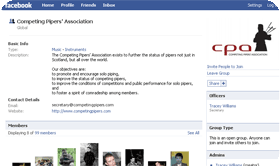 The Committee
President
Cameron Drummond
Vice President
Greig Canning
CPA Secretary
Helen Wilkinson
Treasurer
Jonathan Greenlees
B & C Grade Competition Liaison
Darach Urquhart
Members
Callum Beaumont
Matt Fraser
Andrew Lee
Peter McCalister
Derek Midgley
Dan Nevins