News
Piobaireachd Society Set Tunes for 2018

Posted: 4th April 2017

The set tunes for 2018 have now been announced by the Piobaireachd Society. Head over to their website to see the full list. http://www.piobaireachd.co.uk/archives/8844

2017/18 Season Gradings Closes soon!

Posted: 25th Nov. 2016

Just a reminder that the gradings for the 2017/18 clos on Wednesday 30th November. If you wish to submit a grading, you must be a member and submit it before this deadline.

Reminder -Autumn Solo Piping Judges' Seminar - This Sunday!

Posted: 14th Nov. 2016

The Autumn Judges Seminar from the Piobaireachd Society and the Solo Piping Judges' Association (SPJA) will take place this Sunday, 20th November at The National Piping Centre and is free to all to attend. It will also be livestreamed from The National Piping Centre website - www.thepipingcentre.co.uk/livestream , with a watch again available a few days later. The main subject for discussion will be the set tunes for the Silver Medal competitions in 2017. These are tunes drawn from Book 16 and from the compositions of Pipe Major Donald MacLeod and so are unlikely to be well known. The seminar will be chaired by Jack Taylor and the discussions will be led by Andrew Wright (Book 16 tunes) and John Wilson (Donald MacLeod tunes) and some of the tunes will be illustrated on the pipes. It is hoped that this will be of interest to judges, competitors and teachers, as well as to the wider public. The agenda for the day, and approximate timings, are as follows: 13.00 to 14.30 Book 16 set tunes 14.30 to 15.00 Short break 15.00 to 16.30 Donald MacLeod set tunes All are welcome to attend, please just turn up - or tune in - shortly before 1pm.
---
About the CPA
The CPA exists to represent the world's competitive solo piping community in Scotland. Our objectives are :
To promote and encourage solo piping.
To improve the status of competing pipers.
To improve the conditions of competitions and public performance for solo pipers.
To foster a spirit of comradeship among members.
Find out how to join / renew membership. You may also wish to read our Code of Conduct and Constitution.
Facebook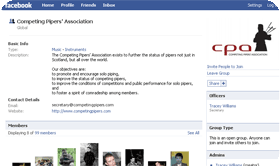 The Committee
President
Cameron Drummond
Vice President
Greig Canning
CPA Secretary
Helen Wilkinson
Treasurer
Jonathan Greenlees
B & C Grade Competition Liaison
Darach Urquhart
Members
Callum Beaumont
Matt Fraser
Andrew Lee
Peter McCalister
Derek Midgley
Dan Nevins