News
SPSL London Competition 2016 - Draw Available

Posted: 12th Oct. 2016

This year's draw for the SPSL London Competition is now available over on their website. The Premier, A, B, C and Juvenile events are shown on separate sheets. The CLASP draw will be posted on the CLASP website. Competitors should note that all piobaireachd events will start at 8.30am. A schedule of competition times will be published nearer the event date. Late entries will not be accepted. Anyone who believes they have entered but are not shown in the draw should raise a query directly with Andrew Hall. This is the link to the draw: http://bit.ly/2e9sPGP

Autumn Solo Piping Judges' Seminar - Sunday 20 November

Posted: 11th Oct. 2016

The Solo Piping Judges' Association (SPJA) and the Piobaireachd Society have decided to adopt a different approach to their autumn judges' seminar this year. The seminar, which is free of charge, will be held in the auditorium at the National Piping Centre in Glasgow and will be open to anyone who wishes to attend. It will also be live streamed so that it may be viewed by those who cannot make it to Glasgow. Information on how to access the live stream will be circulated nearer the time. The main subject for discussion will be the set tunes for the Silver Medal competitions in 2017. These are tunes drawn from Book 16 and from the compositions of Pipe Major Donald MacLeod and so are unlikely to be well known. The seminar will be chaired by Jack Taylor and the discussions will be led by Andrew Wright (Book 16 tunes) and John Wilson (Donald MacLeod tunes) and some of the tunes will be illustrated on the pipes. It is hoped that this will be of interest to judges, competitors and teachers, as well as to the wider public. The agenda for the day, and approximate timings, are as follows: 13.00 to 14.30 Book 16 set tunes 14.30 to 15.00 Short break 15.00 to 16.30 Donald MacLeod set tunes

Captain John MacLellan Competition 2016 Results

Posted: 10th Oct. 2016

This weekend saw the annual Captain John MacLellan Competition once again take place at the Army School of Piping and Drumming in Edinburgh at what was a very well run competition. The results were as follows: P/A Piobaireachd 1 Faye Henderson, Scarce of Fishing 2 Peter McCalister, The Fingerlock 3 Mike Fitzhenry, Park Piobaireachd No.2 4 Jamie Forrester, The Vaunting 5 Gordon Bruce, The Big Spree Judges: Andrew Frater, Robert Wallace P/A MSR 1 Jonathan Greenlees 2 Craig Sutherland 3 Jamie Forrester 4 Steve Gray 5 Graham Drummond Judges: Ian Duncan, Iain McLellan B Piobaireachd 1 Bruce MacDonald 2 Jonathan Simpson 3 Steven Gray 4 Jamie Elder 5 Cameron McDougall Judges: Ronnie MacShannon, Stuart Samson B MSR 1 Calum Watson 2 Jonathan Simpson 3 Andrew Wilson 4 John MacDonald 5 Andrew Hall Judges: P/M Jimmy Banks, Colin MacLellan C Piobaireachd 1 Scott MacRae 2 Ben Mulhearn 3 Chris Lee 4 Connor Jardine 5 Andrew Bova Judges: Tom Speirs, Andrew Wright C MSR 1 Connor Jardine 2 Edward Gaul 3 Dan Nevans 4 Chris Lee 5 Scott McRae Judges: Walter Cowan, James Henderson Open H&J 1 Jamie Forrester 2 Craig Sutherland 3 Connor Jardine 4 Calum Watson 5 Cameron MacDougall/ Graham Drummond Judges: Ian Duncan, James Henderson, Iain McLellan, Tom Speirs, Robert Wallace Congratulations to all those who took part.

Captain John MacLellan Competition 2016

Posted: 5th Oct. 2016

The Draw for the Captain John MacLellan Competition, which takes place on Saturday 08 October is now live in the members area of the website. The Piobaireachd and March, Strathspey and Reel in all grades will start at 10.00. The Open Hornpipe & Jig will being at approx 14.00. Thank you to all who entered and Good Luck!
---
About the CPA
The CPA exists to represent the world's competitive solo piping community in Scotland. Our objectives are :
To promote and encourage solo piping.
To improve the status of competing pipers.
To improve the conditions of competitions and public performance for solo pipers.
To foster a spirit of comradeship among members.
Find out how to join / renew membership. You may also wish to read our Code of Conduct and Constitution.
Facebook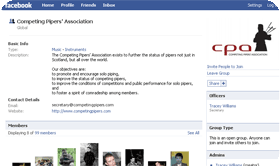 The Committee
President
Cameron Drummond
Vice President
Greig Canning
CPA Secretary
Helen Wilkinson
Treasurer
Jonathan Greenlees
B & C Grade Competition Liaison
Darach Urquhart
Members
Callum Beaumont
Matt Fraser
Andrew Lee
Peter McCalister
Derek Midgley
Dan Nevins