News
Capt John MacLellan Memorial Piping Championship

Posted: 9th Sept. 2014

Entries are now open for this event. Follow the 'Members' Competitions' link in the Members' Area for details.
---
About the CPA
The CPA exists to represent the world's competitive solo piping community in Scotland. Our objectives are :
To promote and encourage solo piping.
To improve the status of competing pipers.
To improve the conditions of competitions and public performance for solo pipers.
To foster a spirit of comradeship among members.
Find out how to join / renew membership. You may also wish to read our Code of Conduct and Constitution.
Facebook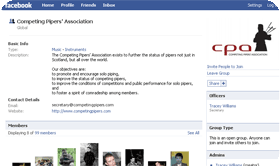 The Committee
President
Robert Gray
Vice President
Cameron Drummond
CPA Secretary
Donald Macleod
Treasurer
Nils Michael
B & C Grade Competition Liaison
Colin Campbell
Members
Peter McCalister (Scotland)
Douglas Gardiner (Scotland)
Faye Henderson (Scotland)
Andrew Hall (England)
Derek Midgley (USA)
John Mulhearn (Scotland)
Andrew Rogers (Canada)
Roddy Weir (Scotland)
Tracey Williams (Scotland)